Expired

Spring Break Drama Camp:
Northwoods Drama Day Day Camp, led by local artist Traci Stinebrink, brings the exciting opportunity of theatrical fun to kids in the Northwoods Area of Wisconsin. Participants in the day camps get a taste of all aspects of putting on a production – from costume creation to set construction to learning and performing in a final production.
Spring Break Drama Camp
Monday March 26 – Thursday March 29
Kindergarten – 1st grade   SESSION A:    2:30pm-3:30pm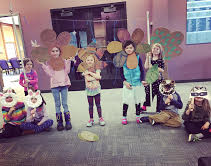 2nd – 4th grades   SESSION B:    3:45pm-5:00pm
$35   Register by March 19
Participants will creative play that builds confidence and encourages their natural
creativity. Along with the dramatic games and exercises, we will prepare a short
performance to be performed at the conclusion of camp.
› Space is limited. (A minimum of 6 and a maximum of 10 participants accepted in each session.)
› Participants should dress in comfortable clothing and shoes that are easy to move around in.
› Parents/Guardians, plan to enjoy a short performance on Thursday, at the conclusion of camp.
Drama Day Camp Session A: Kindergarten - 1st grade


March 26, 2018




2:30 pm - 3:30 pm

Drama Day Camp Session B: 2nd - 4th grades


March 26, 2018




3:45 pm - 5:00 pm

Drama Day Camp Session A: Kindergarten - 1st grade


March 27, 2018




2:30 pm - 3:30 pm

Drama Day Camp Session B: 2nd - 4th grades


March 27, 2018




3:45 pm - 5:00 pm

Drama Day Camp Session A: Kindergarten - 1st grade


March 28, 2018




2:30 pm - 3:30 pm

Drama Day Camp Session B: 2nd - 4th grades


March 28, 2018




3:45 pm - 5:00 pm

Drama Day Camp Session A: Kindergarten - 1st grade


March 29, 2018




2:30 pm - 3:30 pm

Drama Day Camp Session B: 2nd - 4th grades


March 29, 2018




3:45 pm - 5:00 pm