Art Drop-Off For Community Art Exhibition
When:
January 25, 2018 @ 11:00 am – January 27, 2018 @ 4:30 pm
2018-01-25T11:00:00-06:00
2018-01-27T16:30:00-06:00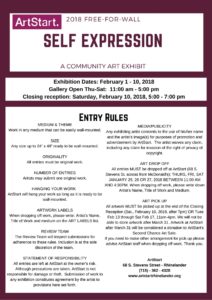 ENTRY RULES:
MEDIUM & THEME
Work in any medium that can be easily wall-mounted.
SIZE
Any size up to 24" x 48" ready to be wall-mounted.
ORIGINALITY
All entries must be original work.
NUMBER OF ENTRIES
Artists may submit one original work.
HANGING YOUR WORK 
ArtStart will hang your work as long as it is ready to be wall-mounted.
ARTWORK LABELS
When dropping off work, please write: Artist's Name, Title of Work and medium on the ART LABELS list.
REVIEW TEAM
The Review Team will inspect submissions for adherence to these rules. Inclusion is at the sole discretion of the team.
STATEMENT OF RESPONSIBILITY
All entries are left at ArtStart at the owner's risk. Although precautions are taken, ArtStart is not responsible for damage or theft. Submission of work to any exhibition constitutes agreement by the artist to provisions here set forth.
MEDIA/PUBLICITY
Any exhibiting artist consents to the use of his/her name and the artist's image(s) for purposes of promotion and advertisement by ArtStart. The artist waives any claim, including any claim for invasion of the right of privacy of copyright.
ART DROP OFF
All entries MUST be dropped off at ArtStart (68 S. Stevens St. across from McDonald's): THURS, FRI, SAT JANUARY 25, 26 OR 27, 2018 BETWEEN 11:00 AM AND 4:30PM. When dropping off work, please write down Artist's Name, Title of Work and Medium.
ART PICK UP
All artwork MUST be picked up at the end of the Closing Reception (Sat., February 10, 2018, after 7pm) OR Tues Feb 13 through Sat Feb 17, 11am-4pm. We will not be able to store artwork after March 31. Artwork at ArtStart after March 31 will be considered a donation to ArtStart's Second Chance Art Sale.
If you need to make other arrangement for pick-up please advise ArtStart staff when dropping off work. Thank you.
Exhibition Dates: February 1 – 10, 2018
Gallery Open Thu-Sat: 11:00 am – 5:00 pm
Closing reception: Saturday, February 10, 2018, 5:00 – 7:00 pm