Culture Tap Residency Program
Culture Tap is a collaborative partnership between the School District of Rhinelander, ArtStart, and Nicolet College highlighting creativity across the community through interactive art projects, educational programming, and access to a wide variety of artists from the Northwoods and beyond. 
Upcoming Culture Tap Artists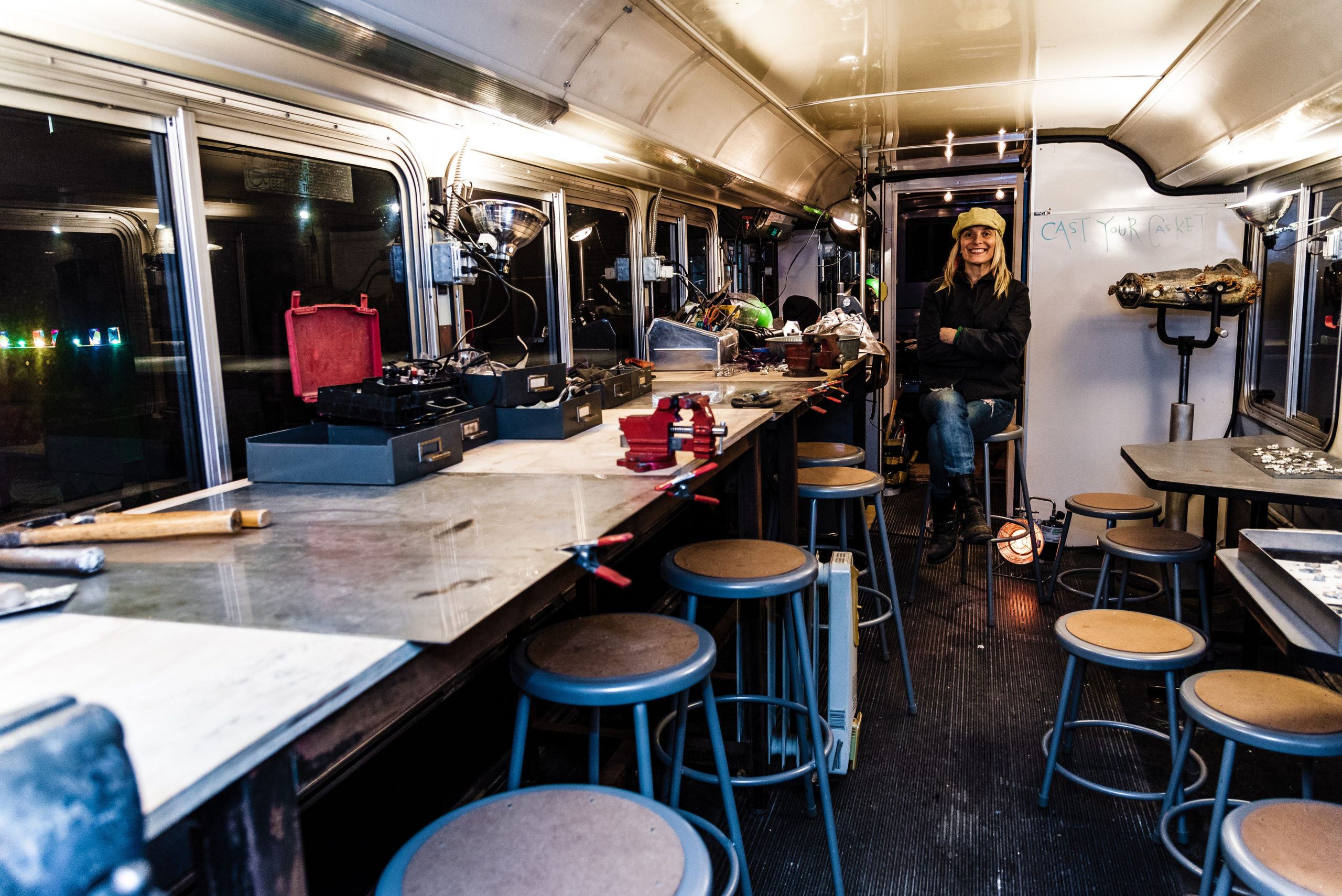 Sara Hanson 
Sara Hanson is a Minneapolis based sculptor, public artist and cast metal maker that brings accessible and participatory experiences into communities, public spaces and unexpected places. Hanson's work invites exploration and discovery of identity, time and place while offering a connection to others and the universe. Her portable sculpture foundry allows individuals to engage in the entire cast metal process from start to finish.  Her work has been exhibited locally at the Minnesota Museum of American Art, Walker Art Center, a TEDx Minneapolis event at the Cowles Center for the Arts, the Minneapolis Sculpture Garden and currently has installations at Lake Nokomis, Silverwood Park in St. Anthony, Midtown YWCA and several schools, businesses and organizations. She has been awarded grants from Forecast Public Art, Minnesota State Arts Board, Metropolitan Regional Arts Council and a commission from the City of Minneapolis for an Artist-Designed Public Drinking Fountain. In 2005, Hanson founded the W.O.W. (workshop on wheels), a traveling sculpture foundry that creates community public art and is now operating out of a renovated city bus, the WOW Mobile Metal Lab and Show.
Description:
Hanson will be working with Rhinelander area elementary schools and Nicolet art classes on a project centered around the art of cast metal. A community education class is being offered as well through the School District of Rhinelander. More details coming this spring! 
Dates of Activity May 5th - 9th 2020 
Julie Benda 
Julie Reneé Benda earned her BA in both printmaking and biological studies at the University of Wisconsin-Stevens Point in 2011, and her MFA at the Minneapolis College of Art and Design in 2016. Using text, image and sculpture she works on projects that interact with and narrate shifting boundaries of land, water, people and plants. Her artwork has been featured in Hyperallergic, Make MN Magazine and she write a bi-weekly comic for the San Francisco based publication McSweeney's Internet Tendency. Currently, she lives in Minneapolis, MN.
Description:
In February of 2020 artist Julie Benda spent a week in Rhinelander working with 6th graders at James Williams Middle School, meeting with 3-D sculpture students at Nicolet College, and installing her show at the Nicolet College Art Gallery. Benda, originally from Houghton and now based in Minneapolis was excited to return the Northwoods particularly since her work references just that. One of her projects is based around a concept of a tree election, a literal election to vote for which species of tree will be the most resilient in the Northwoods 100 years from now. The students screen-printed their own campaign posters which are on view in the Nicolet College Art Gallery as part of Benda's exhibition. Community members are welcome to vote themselves at ballot boxes in the lobby of the Northwoods Center on the Nicolet Campus. Benda's other work incorporates tree carvings and sculptural elements all relating back to our relationship with nature. Benda demonstrated her carving techniques with Nicolet students and at the gallery's opening reception.
"I thought I messed up and Julie said art is art.  Made me feel better about what I did" - Addison, 6th grader James William Middle School. 
"I liked how she made me feel....my artwork was a masterpiece" - Lily, 6th grader James William Middle School
" Loved that she let us help her with screen printing effort and she gave you ideas" - Abby, 6th grader James William Middle School. 
"I liked the screen printing part as I've never done that before" - Alex, 6th grader James William Middle School. 
Takayuki Ishii
Takayuki Ishii, who is in his early thirties, runs an indigo dyeing workshop in the mountainous area of Kanagawa Prefecture in Japan. He uses traditional techniques and materials and wants to help preserve the traditional way of Japanese indigo dyeing.  Ishii san's approach is to grow, harvest and process his own plants which are then used in his dyeing practice. 
Takayuki's dye practice was a response to the Fukushima Daiishi Nuclear Disaster.  "After the nuclear power plant accident during the earthquake in Great East Japan in 2011, I began to contemplate about a sustainable society.  Polluted water, created in chemical dyeing processes, flows through the river into the sea and destroys the ecosystem. However, the indigo dye I use is a sustainable and natural dye that can become fertilizer for the land and food for the fish '' according to Takayuki.
Description: 
Japanese Indigo die artist and farmer Takayuki Ishii spent two weeks in September working with Northwoods artists and school children. Ishii San focused on the sustainable aspects of Indigo die and the process of creating Indigo dye from growing the plant to fermenting the dye to traditional Japanese techniques. In collaboration with Circle of Life Studios Ishii San lead an intensive workshop. He then spent two days working with 4th and 5th graders at Northwoods Community Elementary where the students created their own Katazomi stencil designs to dip in the vat.  The school district of Rhinelander offered a community education class where particiants learned other Japanese dye techniques then came back to a demonstration at Project North and dipped their clothes in the vat. Takayuki Ishii also installed his work in the Lakeside center of Nicolet College and gave a public artist talk at the same location. At the end of his visit he offered two classes through the School of the Arts in Rhinelander. 
"I think that the language barrier made for a more powerful and eye opening experience for the kids. They were more engaged in that they really had to pay attention not only to words, but body language, demonstration, etc. There were multiple instances I saw the kids trying to communicate with our guests using different tactics (and vise versa)... I think it made for a strong and solid real world connection."  – Kim Martiny, District Art Teacher 
"A once in a lifetime opportunity for some kids! They will remember this forever. This motivated some to write poetry about the indigo as well as create an artistic piece to use as a stencil. Inspirational, informative, and valuable. Learning about others and their culture, places they live, etc. helps to create empathy and caring we need to have for one another!"  – Shari Wendland, 4th grade teacher NCES 
The kids were extremely engaged in the unique experience.  Takayuki was very professional and courteous. What a great experience for all involved.  Thank you! - Alex Bontz, NCES Principal and 5th grade Teacher 
This program is supported in part by a grant from the Wisconsin Arts Board with funds from the State of Wisconsin and the National Endowment for the Arts.