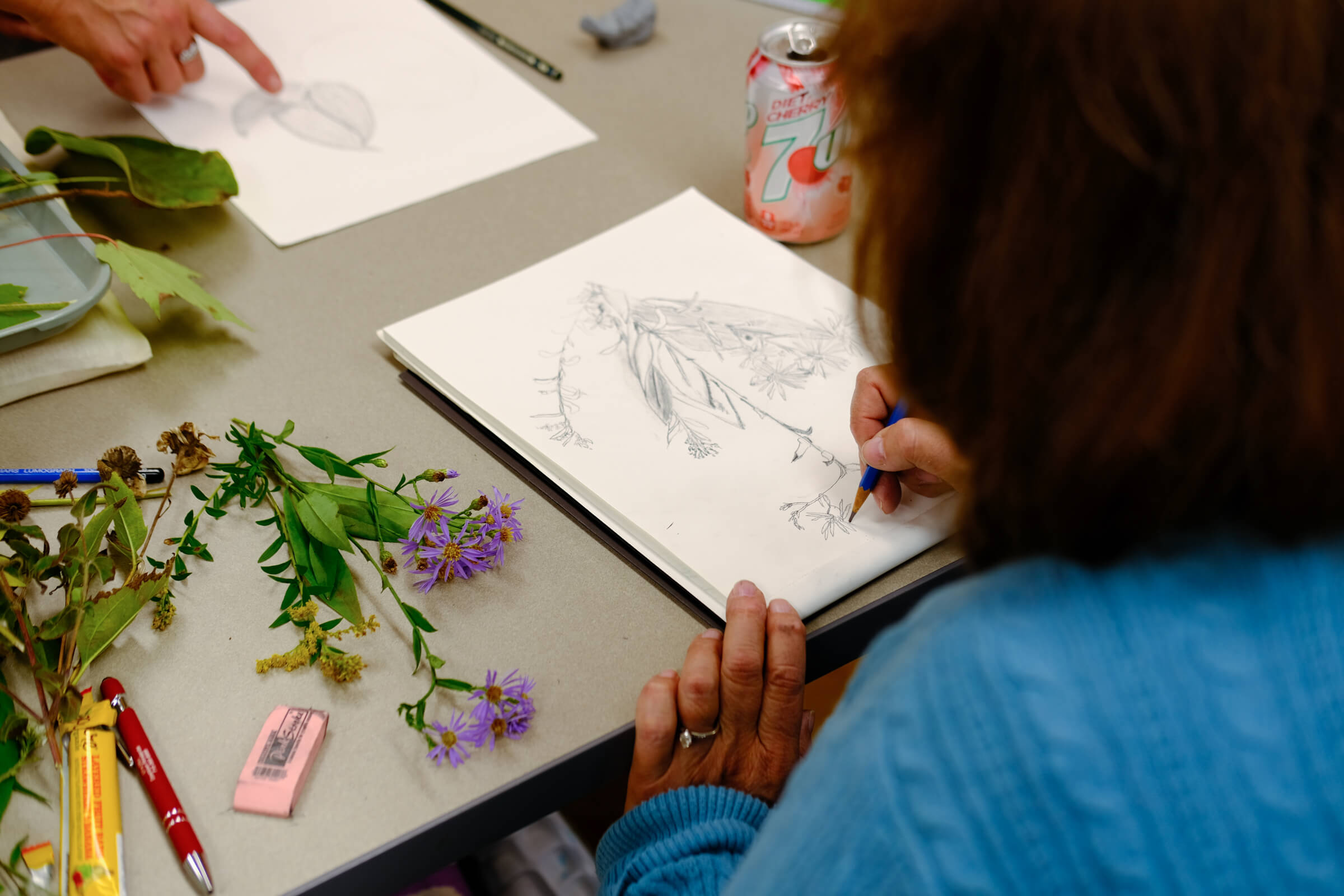 ArtStart School of the Arts Legacy Program
Join artists and writers from all over the state for an inspiring and adventurous extended weekend arts retreat on the beautiful University of Wisconsin Stevens Point, Treehaven campus outside of Rhinelander.
We are doing BIG THINGS this year!
We are collaborating with Nicolet College (another local partner) to make us even stronger and help simplify the registration process  -AND-  ArtStart is the main stage and a co-host of Project North, a music, art, and environmental festival happening in downtown Rhinelander September 26-28.
Registration opens July 29th!
Frequently Asked Questions
"The weekend experience was relaxed, stimulating, and fun. I'd hoped to restart my creativity, and it certainly felt like that happened. The setting/venue in itself was great; the food service excellent, the yoga—the hard-working staff that is so dedicated to the mission—a great immersion experience for anyone needing/wanting to kick-start the right side of their brain."
"This was an incredible experience. I was beyond thrilled with my experience. I was so excited for all of my classes, but was so happy that the classes were even better than expected. As someone who loves to experience nature, this unique combination of class experiences was an amazing find and I so hope to attend much more from ArtStart in the future. Everyone was so helpful, friendly and just wonderful to be around. This was an incredible experience."  
"Mel was an amazing instructor who was easy to follow. Her positive and upbeat attitude, as well as knowledge, was wonderful."
"Solo work was meditative. Collaborative work was fun and rewarding. Wonderful company, beautiful setting."
"I loved all this. I will be back."
In 1964, Robert E. Gard founded the nationally known School Of The Arts at Rhinelander by hosting about 50 students and six writing instructors in the Northwoods for the first SOA writing class. Gard was an innovative and influential founder, author and University of Wisconsin Madison and Extension Professor.
In 1967, Gard wrote and received the first large grant made available by the National Endowment for the Arts in rural communities. SOA was one of the grant projects and was structured on Gard's core beliefs: to help people grow as artists in a supportive environment, the power of individual expression through the arts, and bringing the resources of the University of Wisconsin to the citizens of the state. With the help of key Rhinelander locals, including Rhinelander School District Superintendent Ced Vig, SOA grew into a one-week program attended by hundreds of students and instructors. Curricula then grew from a focus in writing to encompass many other art forms.
In 2015, the University of Wisconsin Continuing Studies department held the last SOA, ending a 50 year tradition.
With the help of statewide partners and sponsors, ArtStart rekindled the program and in 2017, launched the first ArtStart School Of The Arts Legacy Program, a version of SOA on a smaller scale.
Since 2017, the program has grown and ArtStart has added more classes each and opportunities for participants to share their craft. In 2018, ArtStart joined forces with the Northern Arts Council for attendees to attend the Northern National Art Competition Reception and in 2019, ArtStart collaborated with WXPR, the Rhinelander Chamber of Commerce, Nicolet Area Technical College, and the Masonic Lodge to plan Project North as part of the experience.
A Special Thank You to ArtStart School Of The Arts Legacy Program
Supporters and Partners:
The University of Wisconsin Division of Continuing Studies
The Robert E. Gard Foundation
The Northern Arts Council
Wisconsin Art Board
Arts Wisconsin
Anonomous Donor
The Rhinelander District Library
The University of Wisconsin - Stevens Point College of Natural Resources Treehaven
Nicolet College
The National Endowment for the Arts