ArtStart's exhibitions are unique, professional and exciting—it is our mission to challenge, educate and delight our visitors.  ArtStart has exhibited collections from The Museum of Russian Art and   Finlandia University Gallery, as well as the work of renowned artists like T.L. Solien, Esther Bubley and others. All exhibitions are selected by our Exhibition Team and range from  work from contemporary artists to historical and cultural collections.
ArtStart 2018 Exhibition Season
November 15-January 12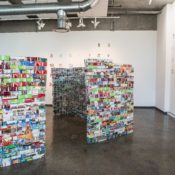 Dark Airing | David Hamlow
Hamlow's installation is a twilit, day-glow environment where Disney dark-ride meets 3D mind-map. Drawing in equal parts from dream logic, psychological diagrams, Buckminster Fuller geodesic utopias, and hobo symbolic language, this immersive environment asks the question: how can we construct meaningful and ethical society in a world that flees from moral reason?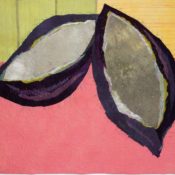 Out My Window | Colleen Ansbaugh
A nationally recognized fiber artist, most recently featured in "Quilt National 2017: The Best of Contemporary Quilts, Colleen Ansbaugh's Out My Window series is a colorful travelogue of what she saw out the car window on her journeys through Up North Wisconsin.
ArtStart 2019 Exhibition Season
March 7-May 11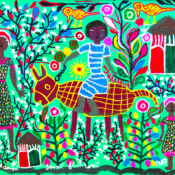 The Art of Haiti  | Selected work from Waterloo Center for the Arts' Haitian Collection
Curated by Kent Shankle, Director WCA
The Waterloo Center for the Arts began collecting art from Haiti in 1977 and is recognized as the largest public collection of Haitian Art in the world with more than 1,500 pieces.
And Selected work by Haitian-American artist, Johanne Benoit
Opening Reception and Artist Talks: March 9 | 5-7 p.m. | Admission by Donation

May 23-August 10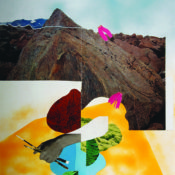 Layers | New Work by Phillip Faulkner
Faulkner produces work that melds the digital and tangible, bridges technology and tradition, and attempts to create imagery that is both new and nostalgic.
Opening Reception and Artist Talks: June 8 | 5-7 p.m. | Admission by Donation

August 22-November 2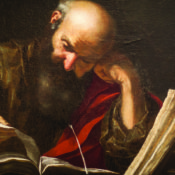 The Masters' Apprentices | The Nemeth Art Center's Gabor and Edith Nemeth Study Collection
The collection includes early European paintings, some of which date back to the 16th Century painted by students of well-known masters like Rembrandt, Rubens and Bosch.
Opening Reception and Artist Talks: August 24 | 5-7 p.m. | Admission by Donation

Diego and Frida: A Smile in the Middle of the Way | In cooperation with the Mexican Consulate of Milwaukee
This photography collection captures marriage of artists, Diego Rivera and Frida Kahlo. Frida Kahlo was a Mexican painter known for her self-portraits, and was celebrated internationally as an emblem of Mexican national and indigenous traditions. Diego Rivera was the most visible figure in Mexican muralism, a large-scale public-art initiative in the 1920s.   Closing Reception and Artist Talks: October 26| 5-7 p.m. | Admission by Donation
November 14-January 18, 2020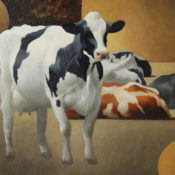 Agraria | Painting by Craig Blietz
Craig Blietz's paintings express his feelings for what he strongly believes is a materially and graphically pleasing part of the broad American landscape. His aesthetic represents a humble, genuine, hardworking and well designed existence.
Opening Reception and Artist Talks: November 16 | 5-7 p.m. | Admission by Donation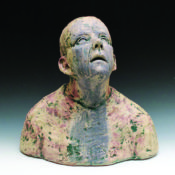 Revisionist Histories | Meghan Sullivan, Ceramicist
A series of figurative ceramic sculptures inspired by Greek and Roman classical sculpture. Her work speaks to the quiet, intimate moments that occur in our lives.
Opening Reception and Artist Talks: November 16 | 5-7 p.m. | Admission by Donation
Application for consideration to exhibit at ArtStart
ArtStart is always looking for emerging and established artists who demonstrate a clear understanding of contemporary arts practice. Collections of historical or cultural significance will also be considered.