Exhibitions
ArtStart's exhibitions are unique, professional and exciting—it is our mission to challenge, educate and delight our visitors.  ArtStart has exhibited collections from The Museum of Russian Art and   Finlandia University Gallery, as well as the work of renowned artists like T.L. Solien, Esther Bubley and others. All exhibitions are selected by our Exhibition Team and range from  work from contemporary artists to historical and cultural collections.
ArtStart 2018 Exhibition Season
March 22-May 26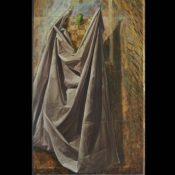 Uncovering Surface and Silence
Kristy Deetz
Invoking and reinventing European canonical painting, Deetz's mesmerizing encaustic and oil paintings on carved wood revise traditional images of drapery and still life. Her work explores how image and process reveal and conceal substance and spirit: the point where ideas, people, cultures, and emotions cross and sometimes merge.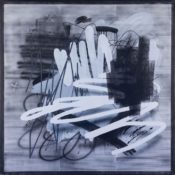 101 Ways to Cook an Egg
Shane Walsh
Walsh's paintings begin with small-scale collages constructed from photocopies of shapes and marks, responding to the history of abstract painting and the punk and hip-hop posters of his youth. He then translates them into large-scale paintings. This process is akin to the children's game of "telephone", in which the original message often emerges drastically altered by the time it arrives at the last participant—something Walsh celebrates! All work appears courtesy of the Alice Wilds Gallery, Milwaukee.
June 6-August 18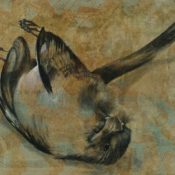 And By The Wind Grieved
Karen Bondarchuk
Over the past two years, Bondarchuk has found more dead birds than at any other time in her life, and instinctively she feels a deep responsibility to honor or commemorate the life that was. The work in this exhibition is an attempt to encounter, to grasp after visually, something of the complexity of humanness and life – of being a mother, a daughter, a mammal – which includes the knowledge of mortality, but levity as well.
O lost, and by the wind grieved, ghost, come back again.
-Thomas Wolfe, Look Homeward, Angel
August 30-November 3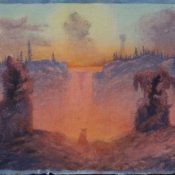 Tranquil Ecstasy
A retrospective of the art of Tom Uttech
Tom Uttech
Tom Uttech is one of America's finest landscape artists. In his work, Uttech reflects what he calls, "the symmetry in life."
"One of the neatest things about nature is that it is totally chaotic at all times, while it is simultaneously totally organized. And a lot of that organization has to do with symmetry. Symmetry is life; it's reality. That is magic."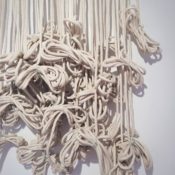 p l e c t ō
Jamie Bertsch
p l e c t ō is a distillation of Bertsch's immediate interactions with the note above and the world around; recalling, looking closely, revering, celebrating, and paying homage to the beautiful commonplace experience. Her work is motivated by a reverence for the process of craft, along with the intimacy and immediacy of using her hands as a tool.
November 15-January 12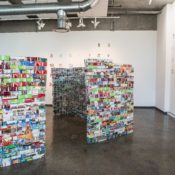 Dark Airing
David Hamlow
Hamlow's installation is a twilit, day-glow environment where Disney dark-ride meets 3D mind-map. Drawing in equal parts from dream logic, psychological diagrams, Buckminster Fuller geodesic utopias, and hobo symbolic language, this immersive environment asks the question: how can we construct meaningful and ethical society in a world that flees from moral reason?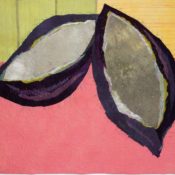 Out My Window
Colleen Ansbaugh
A nationally recognized fiber artist, most recently featured in "Quilt National 2017: The Best of Contemporary Quilts, Colleen Ansbaugh's Out My Window series is a colorful travelogue of what she saw out the car window on her journeys through Up North Wisconsin.
Application for consideration to exhibit at ArtStart
ArtStart is always looking for emerging and established artists who demonstrate a clear understanding of contemporary arts practice. Collections of historical or cultural significance will also be considered.