T

o strengthen our community through arts education and cultural engagement.
Open by appointment
ArtStart is implementing cleaning, mask, and social distancing recommendations provided by the CDC and local health officials. All gallery visitors are required to wear a mask and remain 6 feet apart. Hand sanitizer and masks are available if needed.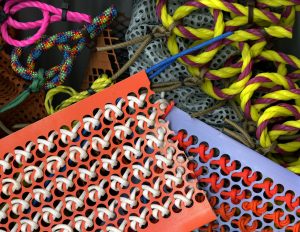 Liz Miller
Acreage (Fort for 2021) explores broad ideas of infrastructure through abstract arrangements of materials that are at once structural and malleable, banal and decorative. Utilitarian, building, and sporting materials like gutter guards, nylon jersey mesh, and tactical rope are transformed into an elaborate site-specific environment that integrates ornate handiwork with materials that sometimes seem diametrically opposed to this treatment. The slow, elaborate act of stitching and the disposable, plastic elements that comprise the work's armature exist in an inherent tension that is mirrored in the landscape where I live. During the isolation of the pandemic months, as I cycled the gravel roads of my rural environment, I experienced both a desire to fit into the landscape, and a desire to remove myself from it. I often saw remnants of building projects littered across the roads and in the ditches, and I imagined myself sewing my own fort from these elements. Acreage (Fort for 2021) is at once a protective barrier against the rural landscape, a celebration of it, and an escapist fantasy of what it would look like if I created my own makeshift environment. The installation builds and expands upon ideas first explored in a related work, Blind (Fort for 2020), exhibited at Textile Center of Minnesota.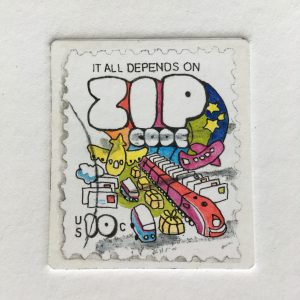 Mel Kolstad
The Post Office: A Love Letter.  With this exhibit, I showcase my love of stamps, letters, postal ephemera, and toys related to the USPS and other countries' mail as well. I began creating bird stamp prints two years ago, and it has sent me on a journey of reigniting hours of enjoyment just looking at stamps. I also have very lovely friends who find vintage envelopes and postcards for me - they are responsible for the ephemera that was used in the collages I've created specifically for this exhibit.  Because of my fondness for the institution as a whole, I've also created a few pieces focused on my frustration of the obstruction of mail practices that have been in place for since the Civil War.
WXPR and ArtStart Present....In Progress
In Progress is a live-stream event held the last Wednesday of every month at 7PM Central on ArtStart's Facebook Page .
Participants are welcome to upload a video or photo (ahead of time) showcasing their work. They can submit a video presenting or performing an original piece of art or they may submit a photo of the artwork along with a text description which will be read by the host during the event.
Videos must be under 1GB in size, must have decent lighting and sound quality, and must be under 10 minutes in length.(Here is a great example of what type of quality we're looking for.)
This event is first come, first served, but submissions may be rejected if they fail to comply with the specifications listed above. If you have any issues submitting a file, you may put a note in the question section of the form with any questions.
The host, Nate Sheppard will curate the artwork live during the live-stream, so you can interact and show your support for our local artists who choose to submit. Audience members are welcome to join the live-stream.
Submit your artwork here.