T

o strengthen our community through arts education and cultural engagement.
We welcome visitors by appointment.  ArtStart is implementing cleaning, mask, and social distancing recommendations provided by the CDC and local health officials. All gallery visitors are required to wear a mask and remain 6 feet apart. Hand sanitizer and masks are available if needed.  Galleries will be reopening for normal hours beginning June 3rd! Weekly hours are: Thursday-Friday 11am-5pm and Saturday 11am-2pm.  We look forward to your visit.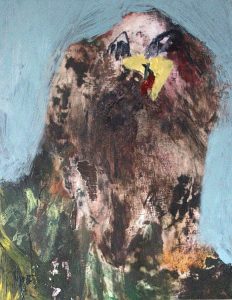 John Bell
A Pigeon Year is a selection of paintings, sculptures, and drawings made of and from the artist's experiences of the natural world.
The brutal world, which stores up what is stable, common, and therefore impersonal in human impressions, crushes, or at least covers over, the delicate and fleeting impressions of our individual consciousness. – Henri Bergson
I think of myself as a figurative artist whose work depicts subjects as verbs rather than nouns. While I always begin by thinking of them as some particular animal or vegetable, my subjects become more than the names and outlines I make for them, eventually adopting their own sense of time. The finished works care very little for what I think of them, choosing to describe their own bodily limits and define their own space by pacing out the edges of their territory on the canvas, page, or pedestal.
My art is a vehicle for exploring the realm of potential, for imagining the near-limitless variety of form that life can take on to particularize itself and still survive. I hope my work can serve as a small reminder that life does not proceed along exclusively rational lines— it constantly reinvents itself, bubbling over any container that we try to put around it.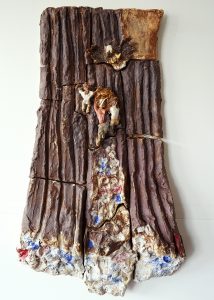 Ash Kyrie
Ceramic Memes, 2020. This exhibition is an investigation into the internet and it's accumulating effect on our lives. In the past two decades we have become untethered from the fiber network of computers. Cameras, microphones, and artificial learning have combined into one saucy mixture of complete surveillance and predictive algorithms.  The technology that is designed to make our lives easier is boxing our behaviors into quantitative integers to better the capital outcome of every interaction with humans.  The goal of capitalism is to completely monetize our bodies and our thoughts with zero regard to the quality of our lives
"I react to the mass information age, and the imagery that is chosen to create narratives. My work uses many mediums to actualize the concept; such as photography, ceramics, sculpture, projection, sound, and video. Art will always be taught with the social context of its origin. "
WXPR and ArtStart Present....In Progress
In Progress is back in person! Join us online or at ArtStart in downtown Rhinelander on Wednesday, June 30th at 7PM. The event will be held outside on ArtStart's outdoor stage (unless it rains in which case we'll be inside the building).
PLEASE READ ALL OF THE INFORMATION BELOW IF YOU WOULD LIKE TO PARTICIPATE!
All of our staff and volunteers are fully vaccinated and careful protocols for social distancing will be employed for our in person gathering. However, we wanted to make sure the event was still accessible for those who choose to not attend in person. The event will still be live-streamed on ArtStart Rhinelander's Facebook page and for those who would like to perform virtually, you can still submit videos to be played during the event.
Please pay attention to all of the requirements and necessary information to ensure that you secure a slot either digitally or in person. There are limited spots for both, so it will be first-come, first-served.
No walk-ups will be accepted for this event to ensure proper safety protocols.
Deadline for digital submissions is midnight on Tuesday, June 30th.
SOCIAL DISTANCING PROTOCOL
For those who would like to join us in person during the event (whether as a performer or an audience member), the following protocols will be in place:
- Whether you are performing or just attending, please wear a mask unless you are fully vaccinated. Performers may remove them during their performances.
- Performers are encouraged to bring their own microphones, but we will provide disposable microphone covers for those who need them.
- If you are feeling at all sick or showing any symptoms of sickness, please do not attend in person. The event will be live-streamed and we encourage you to attend online (through ArtStart's Facebook page).