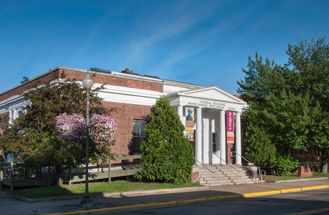 The History of ArtStart:
ArtStart is a 501(c)(3) nonprofit, charitable organization.
Between 2009 and 2011, a group of community-minded citizens proposed the City of Rhinelander purchase the original Post Office building from the Federal Government and lease it to the organization, as a creative place-making project; to be transformed into a destination arts and cultural center.
The City of Rhinelander agreed and ArtStart was officially formed in 2011. ArtStart volunteers gathered and renovated the building into a modern space with two galleries, a children's art classroom or conference room, both an indoor and outdoor stage, and bar area. There are several office spaces in the ArtStart building which are leased to artists, music instructors, health coaches, foundations, and other nonprofit organizations. 
Since 2011, ArtStart has been a staple in the downtown community hosting over 100 events annually and bringing culture and creative community development to the forefront of citizen minds.
Our Mission:
To strengthen our community through arts education and cultural engagement.
Our Vision:
To continue as a cornerstone for community arts engagement. As a highly distinctive cultural center, ArtStart provides a variety of exhibitions, programming and event activities which leverage art to engage community members in cultural, social, and economic development.
Our Values:
ArtStart is first and foremost a community development project.
Cultural values are intrinsic to the health of a progressive community and as such must be integrated into all phases of community planning.

Cultural activities must be available to everyone, regardless of means

 Education is a means to help people identify assets, capacities, needs, resources, and solutions

 Civic involvement (or participation) is fundamental to improve the quality of community/neighborhood life

 Internal and external collaborations and partnerships are essential

 Information and knowledge are a basis for decisions
Our Goals:
To support and participate in the development of the Rhinelander community 

Maintain a highly-distinctive cultural organization as a cornerstone of the community

Provide opportunity to view cutting edge artworks and present new trends in contemporary visual art

Provide a forum to meet interesting people of shared interests

Make program and events accessible to everyone 
Location
68 S. Stevens Street
Rhinelander, WI 54501
Gallery Hours
11am - 5pm Thursday - Saturday (Wednesday in the Summer)
Gallery tours available upon request