ArtStart, will be hosting a Christmas Market
event November, 2018 to mirror the traditional and
charming open-air markets that spring up in Germany during the Christmas holiday season. Attendees
will shop for unique, hand crafted gifts from local artists, enjoy mulled wine and European inspired
foods. Traditionally these events are held outside in the town square, but ArtStart will host the event
indoors in both art galleries and the community space that will be available between their Fall and
Winter Exhibitions.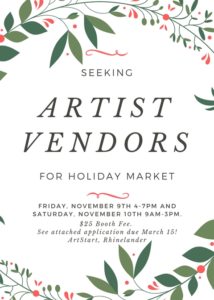 ArtStart seeks 20 artists
to showcase their hand crafted items on Friday, November 9 th 4-7pm and Saturday, November 10 th 9am-3pm. The fee will be $25/artist for approximately 10 feet of space.
If you are interested in participating or if you have questions please let us know.