Roots Concert Series: Brothers Burn Mountain
Details
Date:
June 14
Time:
07:00 pm - 09:00 pm
Thursday, June 14, 7-9 p.m. at ArtStart, 68 S. Stevens Street, Rhinelander.
Admission by donations, all donations go to the musicians.
Cash bar is available.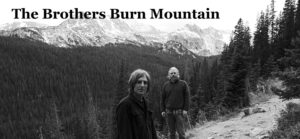 From their website: http://www.thebrothersburnmountain.com/
Diarmada Records Presents
The Brothers Burn Mountain
Based out of Duluth, MN, The Brothers Burn Mountain are a soulful, energetic, eclectic duo of real-life brothers, Ryan and Jesse Dermody. They've been playing music together everyday as a duo for more than 16 years. They've released 8 full-length albums of original music, and have toured across the country over the years, though especially in the Midwest, having played more than 1,400 live shows. Though difficult to try and put their sound into words, some have called it avant-garde blues rock, though basically it is really just good-ol' rock n' roll with a very personal and strange twist of bluesy tastes.